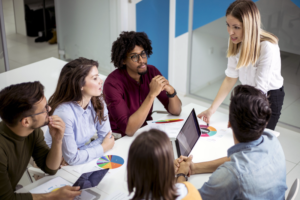 While company culture influences may be difficult to pin point, having a wellness option that increases employee engagement, provides them with healthy lifestyle options, and gives them the resources to succeed in both the workplace and their personal sphere may dramatically increase mood and productivity in multiple realms of their life.
ROI is the measurable cost savings of implementation, and VOI includes components such as referral rates, productivity, retention, recruitment, employee morale, and overall work satisfaction. Improving the culture of your workplace is like fine-tuning your brand, your values, and your mission: if you prioritize your employees' well-being and foster an environment in which they can thrive, chances are they'll return the favor by working hard, showing up for work, and engaging positively with others in your company (and outside of it!).
The Integrated Benefits Institute, a nonprofit health and productivity research organization, reports that absenteeism and unproductive employees due to illness cost American companies approximately $530 billion in annual productivity. On the opposite note, 62% of employees surveyed felt their wellness program boosted morale and increased their productivity. Exercise is proven to stimulate mental productivity and is directly linked to stress reduction, which increases happiness, health, and general wellbeing. Contact us when you're ready to establish your company's wellness program.