Team AMWellness is super thrilled to share the news that our Corporate Wellness client, Zeigler Auto Group, has ranked in the top 20 nationwide for their outstanding support of work-life balance and fostering a healthy workplace. Go team ZAG! AMWellness assists ZAG with a custom wellness portal where employees can access a monthly lineup of workout videos, digital classes, one-on-one coaching, a health resource library, and team challenges tracked on our AMCoached app.
If you're looking to elevate your corporate culture and supercharge your employee engagement, Contact Us for help designing a customized plan to suit your organization.
ZAG Ranks in Top 20 for Work-Life Balance
According to a Glassdoor Economic Research study released in October of 2021, Zeigler Auto Group ranked among the review site's Top 20 Highest-Rated Companies for Work-Life Balance During the COVID-19 Pandemic, coming in at number 14 nationwide. The study–which gathered Glassdoor.com reviews from current and former U.S.-based full-time employees between March 15, 2020, and September 28, 2021– also gave Zeigler Auto Group the top spot for new and used auto dealership groups.
"Zeigler is proud to be leading the way for work-life balance in our industry. After nearly 50 years, we continue to be a family-owned and operated business; and to us that means taking care of our people in good and bad times. It also means continuing to adapt to a rapidly evolving world by listening to our team's needs so that they can be the best they can be," said Aaron J. Zeigler, Zeigler Auto Group's president and owner, who also holds a 98% CEO approval rating on Glassdoor.
The top 20 companies spanned a number of different industries including tech, finance, nonprofit, retail, real estate, accounting, education, and government. Zeigler Auto Group fell within the retail industry, representing the best of the best among auto dealer groups that offer new and used vehicles. The average work-life balance ratings for the study were measured on a 5.0 scale with Zeigler Auto Group averaging 4.7.
"We are honored to be recognized as a top company in Glassdoor's study on work-life-balance! This is a tribute to our culture at Zeigler Auto Group and the way our teams take care of one another. We strongly believe that taking care of our people gives our team the best environment to deliver an amazing experience for our customers," said Mike Van Ryn, director of talent development at Zeigler Auto Group.
According to the Glassdoor Economic Research Work-Life Balance study, the proportion of all reviews on Glassdoor.com discussing burnout surged 100 percent, from 0.20 percent in February of 2020, before the pandemic in the U.S., to 0.40 percent in September 2021. While the proportion of employees mentioning mental health on Glassdoor increased by 143 percent, from 0.23 percent in February 2020 to 0.56 percent in September 2021.
In order to arrive at those numbers, the study looked at the percentage of reviews each month, during the stated time period, that mentioned the keywords: "mental health" or "burnout". Then designated reviews that mention those keywords in the "Pros" section as having positive sentiment, and conversely, designated those reviews using those keywords in the "Cons" section as negative. The study only included companies with over 75 work-life balance ratings between March 15, 2020 and September 28, 2021.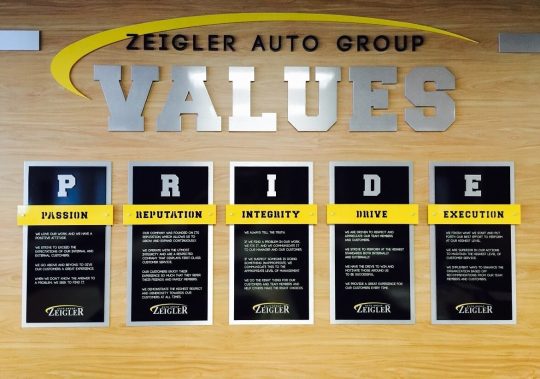 "Glassdoor's Work Life Balance ranking recognizes something we've long known at Zeigler, when you do what you love, with people who care about your wellbeing and your success, work-life balance will always be effortless. It reminds me of a quote by Simon Sinek "Working hard for something we don't care about is called stress. Working hard for something we love is called passion. It is a right, not a privilege, that we should love where we work." At Zeigler we make it a priority to give our people the tools they need to love where they work. This philosophy has driven us through COVID challenges, economic ebbs and flow, and propelled us to massive growth over the years," said Sam D'Arc, Zeigler's chief operating officer.
In response to the pandemic, Zeigler Auto Group introduced an internal Employee Stimulus Plan last April that offered free health insurance for the month of May and June to all employees that were currently working or back to work by Friday, May 1, 2020. Aside from the free health care initiative, Zeigler also announced that all hourly employees would receive a $10 per hour increase in pay for the next eight weeks. Before the increase, the dealer group's average hourly employee was around $15 per hour. Additionally, all flat rate techs throughout the organization were guaranteed 40 hours per week for the next eight weeks.
Another key takeaway from the study was the difference between the recorded "average work-life balance rating" for each category and companies' ratings within that category. For example, while the retail category averaged a 3.1, Zeigler was listed at an impressive 4.7 rating.
Zeigler's chief of staff, Matt Thomas says the organization's high score is a product of Zeigler's ongoing investment in internal development and engagement programs. "We offer our team members the tools they need to effectively maintain a healthy work-life balance while enhancing their overall employee experience. We have leadership, personal development, and wellness programs available to our entire staff. This all helps create an environment where everyone can perform at their very best and ensures that our team is actively taking part in shaping a culture that they are proud to be a part of."
During 2020, Zeigler hosted over 20 guest speakers, as part of its highly successful Zeigler University Guest Speaker Series compared to its usual 5 to 7 speakers per year. Although most sessions were held virtually, Zeigler organized a small number in person sessions to keep its team motivated and inspired through the year's most difficult times.
More recently, Zeigler partnered with Athletic Mentors to offer employees a free wellness program especially built for the organization. The company's fully digital platform includes an on-demand educational library, one-on-one live coaching, wellness programs, monthly challenges with prizes, and more.
Zeigler also has an ongoing scholarship program that awards over $100,000 a year to company employees and their families. Other leadership and development programs include Zeigler's Aspiring Leadership and Development Course, performance groups, and various department-specific talent development programs.
The company also invests heavily in recognition programs that center around its company's values and mission through the P.R.I.D.E. acronym that stands for Passion, Reputation, Integrity, Drive, and Execution. Among the recognition programs is its highly coveted P.R.I.D.E. Award, with honorees receiving nominations from peers rather than management–which helps foster a sense of community that supports others being praised for their hard work. Customer reviews on the employee nominated are also taken into consideration.
Besides its high ranking on the Glassdoor Economic Review Work-Life Balance study, Zeigler also holds a 4.8-star rating and a 91% Recommend to a Friend rating, with nearly 200 reviews to date on the review site. The organization is also consistently recognized for its focus on talent, winning three consecutive Best and Brightest Companies to Work for in the Nation awards.
About Glassdoor
Built on the foundation of increasing workplace transparency, Glassdoor offers insights into the employee experience powered by millions of company ratings and reviews, CEO approval ratings, salary reports, interview reviews and questions, benefits reviews, office photos and more, combined with the latest jobs.
About Glassdoor Economic Research
Glassdoor Economic Research provides the latest insights and research on today's labor market. The company's economists and data scientists work to unearth important trends in hiring, pay and the broader economy– all based on Glassdoor's unique data on jobs, salaries, benefits, company reviews and more.
About Zeigler Auto Group
Zeigler Automotive Group is one of the largest privately-owned dealer groups in the U.S. with 78 franchises across 35 locations in Wisconsin, Illinois, Indiana, and Michigan. Vehicle brands represented include all of the domestic and the majority of the imported manufacturers.
Besides its extensive automotive portfolio, the organization owns and operates Zeigler Motorsports, an 85,000-square-foot motorsports dealership and action park, offering 19 different powersports brands, plus its own onsite restaurant: Trak Houz Bar & Grill. Additionally, Zeigler Motorsports houses the Elevate Leadership & Team Building Academy, an executive training company.
The Kalamazoo-based dealer group also owns and operates Zeigler Pre-Owned of Chicago, a Carquest Auto Parts store, three Byrider franchises, three finance companies, several insurance firms, and a leasing firm.
Founded in 1975, the organization employs over 2,300 people, ranking among the top 1% of automotive dealers in the nation with estimated annual sales of $2.2 billion for 2022. The family-owned and operated company is well known for its commitment to both customer service and employee satisfaction. Zeigler is regularly recognized as one of the Best and Brightest Companies to Work for in the Nation, also earning similar accolades in Chicago and Michigan.